👋 Humanitarian! 🐹
This week: Write your thoughts as #EmberJS2019 Roadmap RFC 🛣🗺, a new member of the learning team👏, a preview of ember-query-params-service ❓, and 💯 the retro of Ember Times. 🎉
---
Blog post wanted! 🚨 We hope you write a blog post to suggest Goal and direction For next year's Ember.The content of these posts will help the core team draft their The next roadmap RFC. No blog? # EmberJS2019 Either tweet or GitHub Gists!Please share your post in the following ways Monday, June 17.
Want to see what's outside?Posts are collected in This community repurchase -Thanks @abhilashlr! We want to share with you some of the highlights from the posts we read this week.
---
@jaylee2 Hope Ember Build a larger community.
Our community at the same time Really amazing and supportive, Still small.In order to prosper, we need Support from developers who don't use Ember every day. These developers may use React, Angular or Vue professionally. They may be self-taught or go to school, hoping to create a showcase project to enter the technical field with the least risk of career trajectory and the shortest time.
He shared three specific ideas to make Ember grow into reality:
Publish better website -Address design and content
promote Octane number heavy
Teaching Ember locally and remotely get together
---
@robclancy on Query parameter:
I hope query parameters will get some love in #EmberJS2019. The biggest pain point of the current imo framework. At least as development progresses.
---
@sbatson5 address Low employability when using Ember:
I hope that Ember will continue to follow the conventions adopted by other parts of the JavaScript world, and that those with Vue or React experience can jump into the Ember project without feeling lost.
---
@rwjblue So far, there are two blog posts about what we can improve in the coming year.His first blog appeared [packaging improvements](Https://www.rwjblue.com/2019/05/30/ember-js-2019-roadmap-wishes-packaging-improvements/), namely Embroider, His second blog is by his side [policy changes](Https://www.rwjblue.com/2019/05/31/ember-js-2019-roadmap-wishes-policy-changes/) About "how we can iteratively advance to the future that may actually happen".
Having an excellent packaging system is critical to Ember's success. This wish list is not long, but it is very important for landing and being "right". […] We really need to use embroidery!

The Ember project as a whole needs to better close these dead ends and communicate more clearly with the community so that they can avoid known future pitfalls when developing ambitious applications.
---
@gokatz an examination Six areas that Ember can improve.
Use Embroider to try existing popular toolkits, such as Webpack and Embroider are very cool, other framework users have long enjoyed functions, such as HMR, different levels of code splitting (routes, components, etc.), can be brought into the ember ecosystem and embroidery. I like to see embroidery become the default built-in tool in 2019.
---
@astronomersiva Suggest Several ideas to increase the developer experience.
What I hope to see in this year's version of Ember is the friendliness of developers. Some simple things are difficult to accomplish on EmberJS, or confuse developers.
---
@pzuraq Propose one [build-centric edition](Https://www.pzuraq.com/ember-2019-the-next-edition/) Follow up on Octane's runtime-centric features.
The goal should be that the new Ember application does not need to pay at all, and the existing application can slowly remove these features in the next few major versions.
---
@jenweber encourage Focus on accessibility of documentation, learning and teaching through code examples.
The ideal Ember experience is that things work out of the box according to modern web development models. It's easy to get started with real-world code examples that teach the recommended practices used by experienced Ember developers from the beginning.
---
@Andrew Callahan Analyze the reasons why Ember lost its popularity, and Share solutions that use components first.
Instead of asking "what do we need Add to To Ember to make it better" we should ask "what do we need Get rid of Make it better from Ember". Specifically, I think Ember 4.0 should eliminate the concepts of routing, controllers, and templates to support components.
---
@chrisrng Ask Ember to focus on Increase the visibility of the JavaScript community.
When I thought about my hopes for Ember in 2019, I realized-in most cases-we are already working on it. […] I believe that much of the work we have done to make Ember Octane a reality will attract wider adoption of Ember. If the developer knows it.
---
@snewcomer Encourage Ember Continue to iterate and improve:
With the launch of Octane, I recently upgraded an old application to 3.9 without major problems. That's so cool. So 💯 continuous improvement of the framework and ecosystem. […] Easy iteration on the learning curve, easy iteration to integrate new features, and easy iteration to help you avoid pitfalls.
---
@chadhietala an examination Routing, single file format and delivery capabilities.
I believe it is time to rethink the routing layer and make it more cohesive with the rest of the framework. Although a large part of the API is good, there are obvious flaws around the mental model of routers, routers, controllers and templates, query parameters, and redirection/abort.
---
We are happy to announce @rwwagner90 joined Learning core team And will continue to support Embers inspector!
You may remember We have selected Robert As part of us in past problems "I contribute to Ember" Series, where we interviewed members of our open source community. Congratulations! 🎉
---
This is an experiment to see if using decorators and separate services to manage query parameters is a viable alternative to existing query parameter implementations.it is Very early Preview, an error is expected.you should Choose to take this to adventure, Please feel free to report strange and unexpected behavior.Have a Older RFC (It recommends adding query parameters to the router service) It has been updated based on the development of the ember-query-params-service plugin. All feedback is welcome! 😊
---
Embers times, One of your favorite news outlets about Ember and its ecosystem, has published its One hundred (and first) edition! 🎉 Ember Times now looks back on the long journey that began more than three years ago:
In its First released on May 2, 2016, Ember Learning and Framework Core team member Ricardo Mendes, Also known as @lock 🔒, wrote in many other topics, regarding the motivation of the newsletter, recent work on the classification of issues by @pixelhandler with Recent implementation work to get Shimmer 2, Ember's ultra-fast rendering engine has crossed the finish line. 🏁
Since the first issue, the email format of Ember Times has added more than 1,300 subscribers. good idea And more official readers People Blog We would like to thank all interested readers for reading, participating and providing feedback on the news we have released so far.
Most importantly, we also want to thank all Amazing contributor (In no particular order) Who has written for The Ember Times in the past three years:
Danielle Adams, Tobias Binec, Aaron Bouquet, Edward Faulkner, Jared Galanis, Chris Garrett, Katie Gegler, Miguel Braga Gomez, Ollie Griffiths, Bill Heaton, Anne-Grace Van Hevining, Lisa Wonnos, Robert Jackson, Jessica Jordan, Todd Jordan, Sivakumar Kailasam, Amy Lam, Kenneth Larsen, Braden Lawrence, Isaac Lee, Bradley Leftley, Chris Manson, Ryan Mark, Ricardo Mendes, Gaurav Munjal, Chris Ng, Niels Rasmussen, Brian Runnells, Michael Schinis, Nick Schot, Preston Sego , Frédéric Sumaré, Melanie Sumner, Ryan Toronto, Robert Wagner, Jane Weber
We thank the community members for all their hard work to keep Ember Times moving forward in the past 100 editions. We are already looking forward to another 100 questions in the future! let us know What are you Favorite reading In the past 100 issues of Ember Times, use #100 EmberTimes hashtag on Twitter Or chat with us #support-ember-times Discord Channel!
---
This week we want to thank @noslouch, @丹文泽尔, @lock, @dbendaou, @sivakumar-kailasam, @vasind, @shermango, @rajasegar, @梅尔sumner, @pzuraq, @rwjblue, @mixonic, @chadhietala, @teddyzeenny, @泊, @rwwagner90, @jenweber, @abhilashlr, @stefanpenner, @thoov, @本blanc with @kellyselden Thanks for their contributions to Ember and related repositories! 💖
---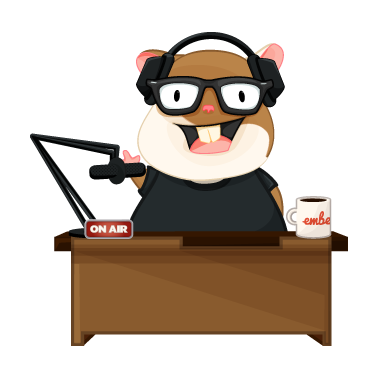 Want to know about Ember, Ember Data, Glimmer, or plugins in the Ember ecosystem, but don't know where to consult? Readers' questions are only answered for you!
Submit your own Short and sweet problem under bit.ly/ask-ember-coreDon't worry, there are no stupid questions, we thank them-guaranteed! 🤞
---
Want to write for Ember Times? Do you have any suggestions for next week's problems?join us #support-ember-times in Ember community discord Or ping us @embertimes On Twitter.
Subscribe to our channel to get the latest news from Emberland this week Email newsletter!You can also find in our post People Blog.
---
That is another package! ✨
Be kind,
Amy Lam, Isaac Lee, Preston Sego, Jessica Jordan, Chris Ng and the learning team