I have lived and worked in the Portuguese town of Minde since I was 15 years old. When I was 8 years old, I started working on the farm, but it was a very difficult life, so when I was 15 years old, I moved to Mingde, trying to find a better life.
I started working in a yarn factory, where I met my husband and stayed until I was 24 and married. It is very difficult to raise a family and work in a spinning mill, so I changed my job and started knitting clothes. This allows me to work during the day and go home with my family at night.
After a while, I fell in love with making clothes, and my father bought me a sewing machine. I started making clothes for my husband, children, grandchildren and friends. When my grandson Bernardo was young, I adjusted his father's old clothes to make them fit. But I didn't graduate from any school, I just taught myself.
In 2018, when I was 74 years old, Bernardo first talked to me about the sneaker business. Come over for lunch and dinner. He has been saying for a long time that he wanted to start his own business, but when he thought about making sneakers out of marijuana or marijuana, I told him: "No chance! That's drugs, you are crazy!" I remember I told him not to think about it.
Then he explained the process to me, it is not illegal, and there is no problem in making sneakers with this hemp. Bernardo told me that hemp will be used on the outside and insoles of sneakers, and sneakers will be waterproof.
But what really changed the rules of the game was that he brought me some fabric samples. We started testing fabrics, and I was able to tell him which ones are easy to break and which ones are better. Since my sewing machine is not strong enough, we have to find a factory to produce shoes that meet our specifications.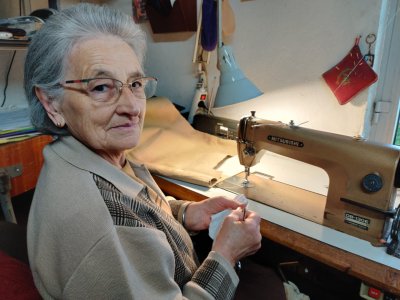 After I find it, I will go to the factory to check the quality of the sneaker samples and evaluate whether everything is well made. A key part of the production did not work properly, the label sometimes tilted to one side, and Bernardo struggled because of no textile experience. I spent a few days with him on the factory floor and taught employees how to get the job done!
I helped deal with all the details of the shoes, explaining to the staff that the stitching was not done well or the glue spilled from the sole of the sneaker; aspects that Bernardo did not know.
Then we launched Kickstarter in 2019 and raised $10,000 through pre-orders to start producing more sneakers, but we actually raised nearly $250,000. We did have a problem shipping shoes in early 2019 because we didn't expect so many orders!
Faced with such a large order, we had to ship the shoes from the factory to the garage in batches. Then we will invite friends to make labels and help us pack each pair of shoes and send them to the final destination. Those days were crazy. It took more than two weeks for the six of us to ship everything over.
But before we deliver a shoe, we will check them individually to make sure they are of good quality. In the early days, sneakers were heavy and I was not satisfied with it because I had knee problems. So now, the shoes are lighter and very comfortable. I still wear one of the earlier heavier prototypes, but I now mainly use the newer, lighter version.
I am still the person Bernardo sends all the samples to. He may think it is ready. I will tell him that the parts are not correct. I will still go to the factory here in Portugal to check the quality and production of the sneakers. I'm like Chief Technology Officer (CTO) Bernardo in dealing with business, and we also have an American investor. I will visit the United States, but unfortunately, I am afraid of flying. So Bernardo went there and I stayed in Portugal.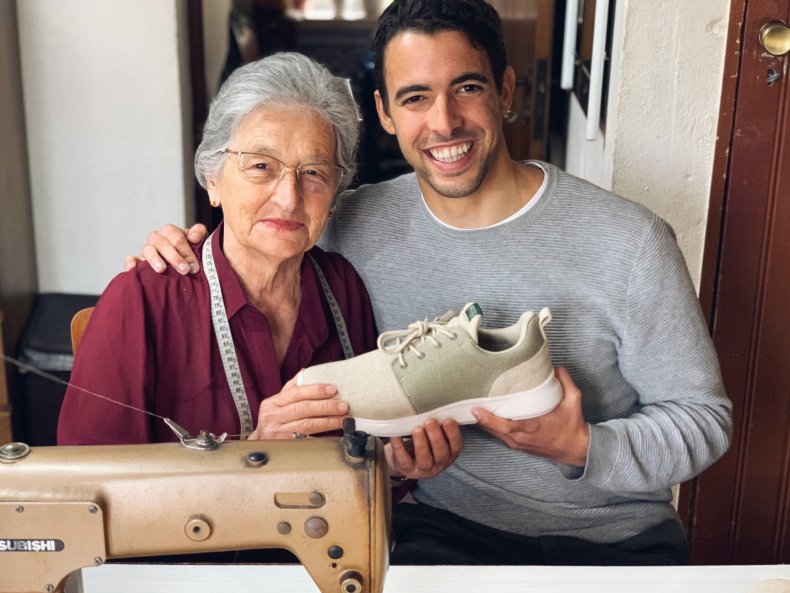 So far, we have sold about 10,000 pairs of hemp sneakers to people all over the world, although Bernardo told me that 80% of our sales are in the United States. To be honest, I don't know much about the Internet.
We currently have seven colors of hemp sneakers for men and women. I have told Bernardo that I hope we will make sandals for next summer and see more colors for sneakers, but I understand that every time we want to launch a new product ,needs time. 8000Kicks is still a start-up company, so everything we do is reinvested into the business.
The best part of working for a sneaker brand is the time Bernardo spent with me. I feel very lucky to have the opportunity to start a family business at my age. It is also very beneficial to get positive feedback from customers.
My friends laughed at me, but they thought it was great for me to work for a sneaker brand when I was 77. We have been selling a lot of sports shoes to the elderly around the Portuguese villages. I think they might be a little jealous of me!
Maria Otilia is the CTO of 8000kicks, a sustainable hemp sneaker brand.learn more www.8000kicks.com Or follow the brand on Instagram @8000kicks.
All views expressed in this article are the author's own views.
As told to Jenny Howard. Interview translation provided by Bernardo Carreira.